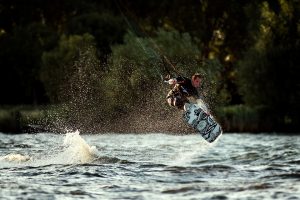 Who would have thought that the ʺConcept of the Doorʺ – a relatively large kiteboard specifically developed for lighter winds – would be around for so many years… But there is always something which can be improved further. The Flydoor5 has a performance oriented focus, which means it allows riders to start planing and go upwind as early as possible, in the easiest possible way.
The enormous light wind potential is guaranteed through the optimized design details (dimensions, optimized rocker curves and a balanced mix of core materials). The proven center fin, which has resulted in various international competitions wins in the TwinTip racing class, remains a success, adding that last bit of performance advantage. But how good is all that performance, if the rider cannot extract it from the board? With the FlyDoor5 we provide you with easy riding and comfortable handling. Besides relaxing freeriding, you can also enjoy a variety of twin tip tricks or try out a strapless session and surprise yourself.
The new footstrap system ʺGalaxyʺ combined with the ʺSpaceʺ footpads guarantee intergalactic feeling to your feet and provide sublime hold. The innovative Click'n'Ride fin system allows for dismantling the matt white G-10 fins in just seconds and saves your beloved boards from scratches during transport.
Find out more about the FlyDoor 5