Description
The TRIP is functional, versatile, and durable. The new era PU splitboard construction provides the ultimate crossover performance. Featuring an asymmetrical outline and progressive concave to underline its playful feeling while ensuring excellent response and control. An unmatched package that saves you costs on the way to your dream destination!
The TRIP makes travel comfortable and affordable again! The innovative PU split construction reduces the pack size, enables performance features, and increases protection of the board halves against wear. The shape is our vision of a true all-rounder and has a constant rocker curve, stepped tip channels, a single concave and the proven asymmetrical outline to minimize spray while riding. The TRIP feels comfortable in all conditions: good planing, medium flex, moderate pop, playful turns, and very good upwind performance make it an excellent crossover board. The grip and smoothness can additionally be influenced by the "choose and ride" FIREFINs. With the click-in system, you can quickly adjust your fins right at the spot or simply pull them off for storage. The TRIP comes with our comfortable "SQUAD Pads & Straps" with great adjustability, as well as a suitable travel bag. The complete TRIP package is designed and manufactured in Europe. The perfect travel companion for your next TRIP!
Features
PU SPLIT CONSTRUCTION
The innovative 3-piece construction features a PU-connector to join the split-board seamlessly together. The unique S connection reduces the dangerous perpendicular stresses of heavy landings and allows a rail-to-rail aligned fastener pin. The flexible component protects the two halves of the board, and allows homogeneous flex and a progressive concave. The PU-connector can be replaced and has a compact pack size.
FIREFIN SYSTEM
The FIREFIN is a two-component injection-moulded fin system for twintip kiteboards. They can easily be unmounted without using tools. The fins are made from two high-quality materials; a hard, engineering grade, recyclable thermoplastic body and a marine-grade, durable silicone skirt which is corrosion resistant and UV stable. This simple plug and play system ensures you worry-free travel without damaging your gear!
FULL WOOD CORE
Designed with a full-length wood core made of responsibly grown paulownia wood. This guarantees the optimal mix of flex, responsiveness and dynamic recovery force of the board while retaining huge amounts of strength and durability.
STEPPED CHANNEL TIPS
The Stepped Channel Tip design provides increased surface area for better pop and more directional stability. Simply put: it lets you carve precisely or ride aggressively while maintaining upwind drive.
PROGRESSIVE CONCAVE
The TRIP's single concave makes the board ride smoothly and ensures stable landings. Feel the difference with other split board constructions, which can only match the shape and flex of regular boards by adding significant weight and extra laminate layers. Enjoy the typical FLYSURFER riding comfort and high control.
ERGONOMIC TOESIDE
The asymmetrical outline uses a rounder and shorter toe-side edge, which makes the board feel lively. The feature increases comfort and maneuverability while cruising on the toe side and offers a unique carving feeling.
Made in EU
Since we manufacture our boards within Europe we can guarantee the highest precision and quality, and ensure that only the best materials are used in their construction.
Accessories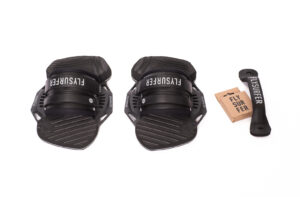 The SQUAD is our premium kiteboard binding and builds on a solid base plate. It transfers your input reliably to the board and offers a variety of adjustment options to perfectly match your foot. Decide on magnificent support combined with comfortable shock absorption, slide over the water so relaxed that even Jesus becomes jealous!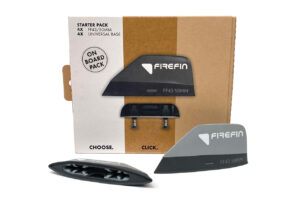 The FIREFIN system engages with multiple "clicks". When connecting, the lip compresses to seal the mechanism and load the system with counterforce. Counterpressure from the highly durable silicone lip ensures strong stability and smooth ejection. The marine-grade silicone seals the system and protects it from debris.
Press the side buttons firmly to hear multiple "clicks". Then pull away the fin.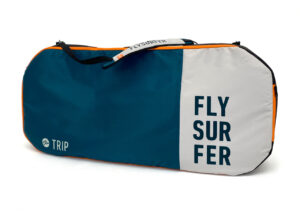 The TRIP Travel Bag offers space for the splitboard including board accessories, a kite and a control bar. You can also add your wetsuit, harness or clothing. It is appropriately padded in the right places and thus protects your equipment.
Specifications
| TRIP | 137 x 41.5 | 142 x 43 |
| --- | --- | --- |
| Color | amber | amber |
| Length (cm) | 137 | 142 |
| Width (cm) | 41.5 | 43 |
| Weight (kg) | 3.3 | 43.48 |
| Core Material | Full Wood Core | Full Wood Core |
| Fins | FIREFIN Set 50 mm | FIREFIN Set 50 mm |
| Rider Weight (kg) | 60 + | 75 + |
Buy Now
Scope of delivery 'ready-to-ride':
1x TRIP Kiteboard
1x SQUAD Pad-Strap-Set (incl. Screws)
1x FIREFIN Set (incl. 50mm Fins, Screws, Mount)
1x SQUAD Grab Handle (incl. Screws)
1x SQUAD Accessory Bag
1x TRIP Travel Bag
1x TRIP Manual
See our stockists.