Description
This is an ex demo 13m BOOST. Photos show the kite and bag.
The kite has been used – there is a pinhole in the green area of the canopy which needs repairing. The bag is fine except for the metal zips have corroded and likely to break off. The pigtails shown signs of wear.
Kite Only

The BOOST is Flysurfer's new high aspect, high performance, jumping, racing and freeride machine. The kite boasts quick turning speed, explosive lift, incredible hang-time, amazing upwind ability and forward speed.
Features
Double 3D-Shape & Pre-Tension Technology
Thanks to this technology we have produced a highly efficient airfoil, which results in unrivaled hang-time and unmatched upwind performance.
Effortless Kiting
High performance with maximum control. No un-sudden surprises with responsive and intuitive bar-feedback, easy relaunch and high stability even in the strongest gales or gusty inland spots.
LightWind Edition
Enjoy outstanding light wind performance with the BOOST LW. Optimized weight reduction, higher aspect ratio and the innovative adaptive airfoil technology. This will increase your kiting days and flying experience.
Infinity 3.0 Control Bar
The Infinity 3.0 Control Bar is thinner, lighter and has a new durable and comfy EVA Grip. Equipped with a safe & dependable quick-release incorporating a smooth line untwisting function, sleek winders and with all new low drag kite-lines. Flysurfer is proud to bring you the most efficient flying lines with low drag and maximum breaking loads.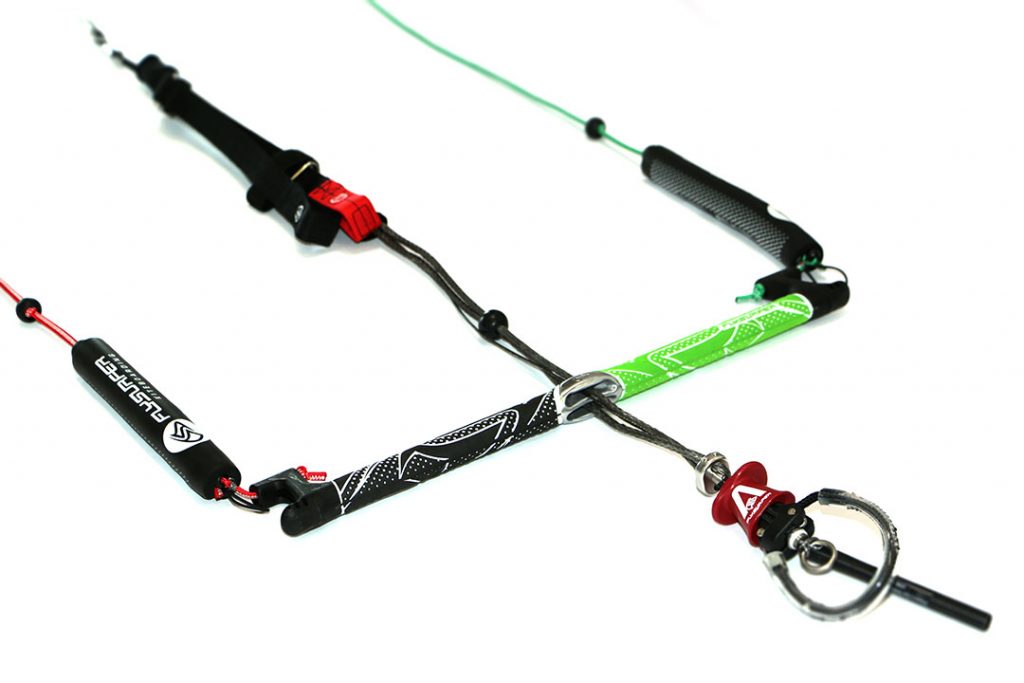 Free Flow Inflation
We had to make pumping easier for those already spoiled by our ram-air foil kites. So we developed a new valve – with a larger opening for increased air intake and easy operation. To complete the system we added a R.E.D Pump (Reduced Effort Device), which differs significantly from normal kite pumps. It is not only smoother and more durable, under high pressure it switches from double hub to single hub, for effortless use.
Self Launcher
With the Self Launcher, we are offering you a tool to help you stress-free solo-launch the BOOST. Position the kite at the edge of the wind window, connect the sandbag (included in kite) and place this on the ground. Tension the kite lines and the Self Launcher will release automatically at the right moment, safely solo-launching the kite.
IKA registered
Flysurfer is passionate about kite-racing and for this reason has registered the BOOST kite especially for you. This allows you to attend every official IKA race event in the L.E.I. class.
Workmanship & 12 month Free Repair warranty
Each cloth, each line and each component has been tested extensively by Flysurfer. We consciously make more work for ourselves in order to guarantee pure worry-free kiting fun. When it comes to materials and components, we always go for quality and functionality over price. To back that up we offer you our 12 month Free Repair warrantee.
Pricing
| Size | Colour | Price Complete | Price Kite Only |
| --- | --- | --- | --- |
| 7m | purple/green/black | £1240 | £910 |
| 9m | yellow/cyan/black | £1325 | £995 |
| 11m | cyan/orange/black | £1405 | £1075 |
| 13m | green, purple, black | £1490 | £1160 |
| 15m | cyan/yellow/black | £1575 | £1240 |
| 18m | orange/cyan/black | £1655 | £1325 |
Buy Now
Every BOOST includes:
1x BOOST Kite
1x BOOST Gear Guide
1x Self Launcher Bag
1x Repair Kit (inclusive Safety Leash, Depower Line and further spare parts)
1x BOOST Kite Bag
12 months free repair warranty
The complete package includes:
1x Infinity 3.0 Control Bar (including 21m flying line set)
1x R.E.D. Pump (with valve adapter)
See our stockists.