Description

Who would have thought that the ʺConcept of the Doorʺ – a relatively large kiteboard specifically developed for lighter winds – would be around for so many years… But there is always something which can be improved further. The Flydoor5 has a performance oriented focus, which means it allows riders to start planing and go upwind as early as possible, in the easiest possible way.
The enormous light wind potential is guaranteed through the optimized design details (dimensions, optimized rocker curves and a balanced mix of core materials). The proven center fin, which has resulted in various international competitions wins in the TwinTip racing class, remains a success, adding that last bit of performance advantage. But how good is all that performance, if the rider cannot extract it from the board? With the FlyDoor5 we provide you with easy riding and comfortable handling. Besides relaxing freeriding, you can also enjoy a variety of twin tip tricks or try out a strapless session and surprise yourself.
The new footstrap system ʺGalaxyʺ combined with the ʺSpaceʺ footpads guarantee intergalactic feeling to your feet and provide sublime hold. The innovative Click'n'Ride fin system allows for dismantling the matt white G-10 fins in just seconds and saves your beloved boards from scratches during transport.
Elegance and Quality
With the black and white design, we have managed to design a timeless and very sophisticated look. The many graphic details in the design tell a fantastic story. Since we produce our Flysurfer kiteboards in Europe and can ensure the lowest production tolerances possible, one can expect a high quality and purely perfected kiteboard. The Flydoor5, a refined board for the demanding riders of today. The Flydoor5 enables you to catch every breath of wind and thus enjoy every minute on the water – everyday is a kiteday!
New Space Pads and Galaxy Straps
The new and improved Space Pads – with more grip and very good damping characteristics for soft landing – and the high-grade Galaxy Straps – which allow for a perfect fit and hold, round off the Flydoor5 package. These straps can be adjusted on both sides and can be used from shoe size EU 39 (barefoot) to about size EU 48 (with neoprene shoes).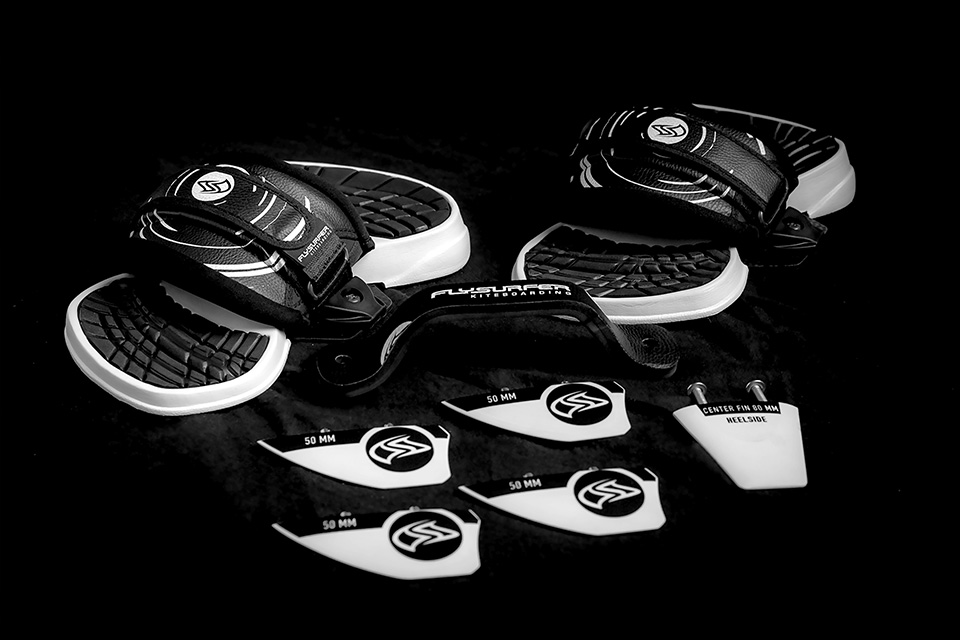 New Click and Ride Fin System
The innovative quick release fin system allows for a disassembly of fins in seconds. Whether for traveling or just to protect your car or other equipment during transport, this system will make the your kite life easier.
Center Fin
The Flydoor5 has a 8cm long centre-fin on the heel-side. The centre fin increases the upwind performance especially in lightwind and makes it able to ride the board flat.
Wood & Foam Core
All Flydoor5 boards have a hybrid core, aimed at achieving a maximum harmony of board weight, performance and durability. A foam core comes into use on the toe side in the longitudinal direction, providing a significant reduction in weight. On the side with more load, the heel side, a robust wood core is used, guaranteeing breaking stability and the dynamic recovery force of the board.
Made in the EU
Thanks to our manufacturing process within Europe we can guarantee highest quality and the usage of only the best materials.
Torsion Fibre Layers
The innovative assembly of a unidirectional woven layer lengthwise and an additional woven layer (torsion layer) at a 45-degree-angle achieves considerably higher torsion stiffness, which is reflected in increased jumping performance while remaining good comfort.
Flextips
The core thickness on the board tips is only 2mm. This allows for supreme board control in overpowered conditions. When too much pressure occurs, the tip flexes upwards and gives you the impression you are riding a much smaller board. Loaded jumps are made easy!
Tucked Under Edge Rails
The "Tucked-Under" Edge has been cut off at a 45 degree-angle, as surfboards have been manufactured traditionally. This makes the board very controllable, even in choppy conditions and reduces spray.
Light Weight
With their low weight of 3.4kg and 3.7kg for the Flydoor5 L and XL respectively, the Flydoors belong to the lightest low-wind kiteboards on the market. Better riding characteristics guaranteed.
Asymmetric Outline
The asymmetrical rounder and shorter toe-side outline increases control when riding toe-side and provides increased maneuverability while carving.
Scratch Proof Topsheet
All of our boards have a special high-quality UV and scratch-resistant coating, and thus offer a long product life. The graphic design is protected under the coating, so that it does not get damaged if the board is slightly scratched.
Wide Stance
Wider insert positions make it easier to land. There are three different stance options possible – Small (50.4 cm), Normal (56.2 cm) and Wide (61.2 cm).
Sizes
| Size | L | XL |
| --- | --- | --- |
| Length | 160cm | 170cm |
| Width | 44cm | 50cm |
| Price | £640 | £640 |
Buy Now
All boards come complete with pads, straps, fins, a grab handle and hardware.
See our stockists.