Description
The Strider is the ultimate no wind toy. If you cannot even get going on a Speed, then it is time to get this out. Inspired by small pond skaters, the strider is a product for the whole family, whether you want to S.U.P on a lake, river, or in the ocean, with the Strider you are always ready for action. It is a welcome change from many other types of sport.
One of the best parts about S.U.P. is the sense of adventure and exploring your surroundings in a way you never previously have. It works great as a cross training activity. It is one of the most fun forms of exercise we can think of!
Being an Inflatable and not a standard solid board makes S.U.P. so much more practical. The Strider is 11′ in length, but packs down to a small bag which will fit in the boot of any car. Strapping a board that big to the roof of a car is both unpractical and uneconomical due to the effect on travel speed and fuel economy.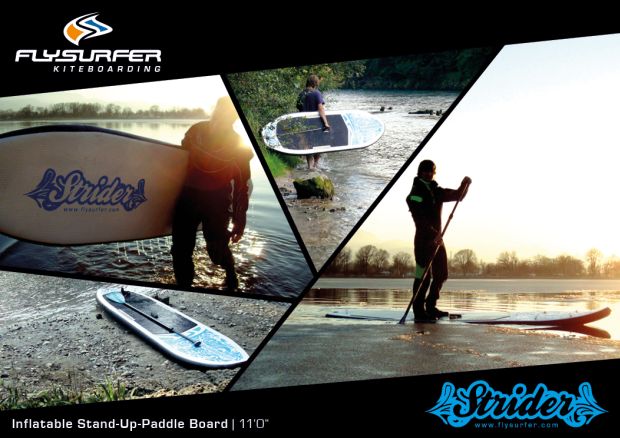 Features
Inflates easily
Small packing dimensions and low weight are ideal for plane trips and for transporting in small cars as well as on a motorcycle or bike
Very robust and durable – stands up to crashes very well
Slight Boardflex for vibration compensation e.g.: in rapids
Light-weighted splitable carbon paddle for long excursions and easy handling
Additional gear mounting options (4x stainless steel rings on bow) for taking along your touring equipment (e.g.: extra clothing, case of beer)
Dimensions
Max Rider Weight – 100 kg
Length – 11'0'' (335x77x9 cm, Length x Breadth x Height)
Complete weight – 11,5 kg
Paddle length – Minimum 170 cm / Maximum 210 cm, 3 settings
Paddle weight – 860 g
Includes
2 piece carbon paddle
Pump
Fin set
Repair kit
Compression strap
Bag
Buy Now – £779
Contact your local Flysurfer stockist now to order.